African decors are always vibrant, artistic, and stimulating. Moreover, they evoke the aesthetics of sunburned soil, deep lush rainforests, nostalgic savanna plains, burnt orange sunsets, and lively marketplaces. It's no surprise that people globally seek to incorporate this beauty into their homes. Let's look at the ten ways to seamlessly blend this remarkable style into your house to create a rich and stunning space.
Also read: Why Are People Moving to Africa?
1. Wooden Statuettes: Oldest African decor
Most African sculpture is figurative, depicting the human form and mainly made of wood. But it can also be styled and sculpted from stone or ceramics. It can be as old as the invention of tools or as recent as right now. In the modern world, it is contemporary art.
These statuettes serve various functions, including bringing fertility, rain, and good yields. They can be exceedingly massive to ensure the well-being of an entire community. Also, they can be smaller units for individuals to utilise in their own homes.
How to use statuettes?
A stunning African wooden statuette is a popular African decor regardless of size or shape. A room is hardly complete without a statement-making piece. Sculptures of all sizes and forms offer a distinctive flair. Most of the statuettes in the entry hall have eye-catching features.
2. Add a contemporary touch with painted African baskets
Weaving baskets is an ancient craft that has survived until today and evolved to a very creative form of modern art. It also plays an essential part in contemporary community life.
African basketry is a dynamic craft that influences societal shifts and economic factors. Likewise, the designs and weaves of baskets were heavily inspired by how you use them.
Why use them as decor?
These baskets make magnificent three-dimensional centrepieces when displayed as decor. It is appropriate for various styles, including bohemian, antique, rustic, and seaside.
Moreover, they're affordable and simple to make at home. Using a range of baskets in varying shapes, colours, and patterns to create custom basket walls is a brilliant way to get creative.
3. Use Namji Dolls
The African Rosewood tree is used to make Namji dolls. Cameroon, Equatorial Guinea, the Democratic Republic of Congo, and Gabon are home to the endemic rosewood tree.
A Namji doll is handcrafted from a single piece of wood. Multicoloured beads, metals, cowrie shells, fibre, coins, and leather decorate the block.
Every doll is unique in terms of size and look. As a result, no two dolls are alike. They look great on a console table in the living room. Begin by placing two dolls on either side of the table and a piece of art in the centre.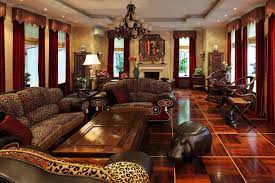 4. Utilise rich Kuba textile
The richness and intricacy of pattern and surface embellishment define Kuba textiles in the Democratic Republic of the Congo. The expressions of starkly contrasting units and abrupt alterations in shape in Kuba textiles reveal a flair for altering the expected line.
The primary material in the fabrication of the textile is fibre. People used it as a round skirt during ritual celebrations and performances too. Wall hangings, sofa covers, and blankets are how Kuba textiles can be used.
5. Motifs: A Colorful African Decor
Rich patterns abound in Africa; wherever you look, you will see echoes of shapes and colours, fabrics, and lines. Back in the old days, people identified outsiders if their masks and robes were not native to the area. Patterns on masks and textiles served as a kind of tribal identity.
Symbolic patterns like flora and fauna or geometric patterns are the most popular motifs. They can go almost anywhere in different decors, seating, pillows, rugs, paintings, etc.
6. Djembe table to warm up the seating area
The Djembe table is a chic contemporary side table that looks like a Djembe drum. The Djembe drum came into existence about 700 years ago by the Mandinka folks, who conquered West Africa. King Sundiata, who ruled over most West Africa, was a huge admirer. This round side table will brighten up the setting and add warmth to contemporary interior design.
How to pick the perfect table?
It is a one-of-a-kind complement to any modern home. It is a good pick for a cheap but unique decor item to bring extra splendour that could rejuvenate the design aesthetics of your house.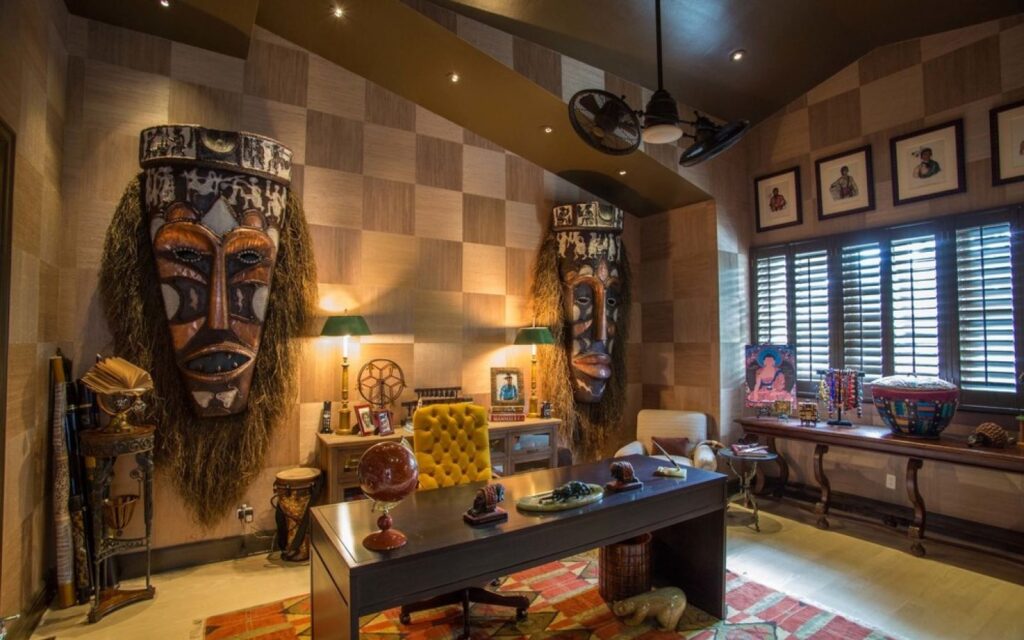 7. Ashanti mask: a classic African decor
The Akan people of Ghana are the creators of the Ashanti mask. These exquisite tribal masks are often handmade. It is mainly made of sese wood; however, it can have an aluminium plate covering them. Ashanti masks are usually on the wall.
However, these masks were usually ceremonial and represented a link to the spiritual realm and ancestors. The mask is carved and then inlaid with brass coloured metal and tiny beads.
The piece would look stunning on a gallery wall surrounded by baskets and tall plants. Nothing could be a more wonderful addition than these masks.
8. Ottoman: A modern African decor
Anyone can agree that ottomans are the most versatile pieces of furniture. They are decorative and functional African decor in the living area and the bedroom. Incorporating a pair of ottomans is the perfect reason to bring together different prints and styles.
You can add some ethnic motifs or keep it simple with a tropical colour scheme. The possibilities are virtually endless. Whether you're a minimalist, maximalist, or somewhere in the middle, there's an ottoman to fit any nook in your house.
9. Moroccan style ceramic plates for a sophisticated living room
Moroccan ceramic art is a unique combination of several cultural heritages in a place of immense beauty. Also, these ceramics have brilliant colours and intricate geometric patterns, which are based on spirals with repetition, symmetry, and scale variations to generate complex effects.
Among Morocco's iconic ceramics are Safi ceramics, and they have vibrant depictions of both traditional and contemporary elements. Try incorporating this African decor in the living room.
10. Rattan Furniture for patio area and summers
Rattan is native to Australia, Asia, as well as Africa. Makers braid rattan stems together to make patio furniture. Weather-resistant rattan is reasonably simple to clean and maintain.
The traditional woven rattan texture is easily noticeable. It is stylish and will remain on-trend for years to come. The style seamlessly provides a sense of grandeur to any backyard or exterior, merging rustic charm and modern simplicity.
How to use rattan furniture in your home?
Many rattan furniture sets come with pillows for added comfort, but you can do so if you want to experiment with different materials. This African decor is available in various colours, including greys, browns, and blacks, to match the rest of your set.
Also, read The 10 Most Popular African Languages.